As a photographer it´s ESSENTIAL to have a professional self portrait on your website – one that match your brand and personality.
A great headshot will help visitors feel welcome. It will make you stand out as trustworthy and approachable.
As much as I LOVE to take pictures – I don´t like to be in front of the camera!
I´m simply not photogenic! My right eye will "hang", I´ll blink all the time – which means closed eyes on 50% of the images, and I´ll position myself in the most unflattering poses – yep, not a pretty sight…blah!
But I firmly believe that EVERYONE can look great in a portrait. You might have to work harder and longer with someone like me, but it´s doable with patience.
Honestly I took 402 self portraits just to get a few really good ones. I spend two hours photographing myself, changing clothes, testing different styles and accessories, changing backgrounds ect. I was wasted afterwards…lol!
The key is to NOT give up, but push yourself out of your comfort zone, try new things, new styles and above all be patience with yourself (we can´t all be pro models, right). Give yourself support and encouragement, just as you would with a client – it´s important that you don´t give yourself harsh critique – keep a playful attitude and have some fun with it!
It will be well worth it in the end, when you have a wow-portrait to put on your website!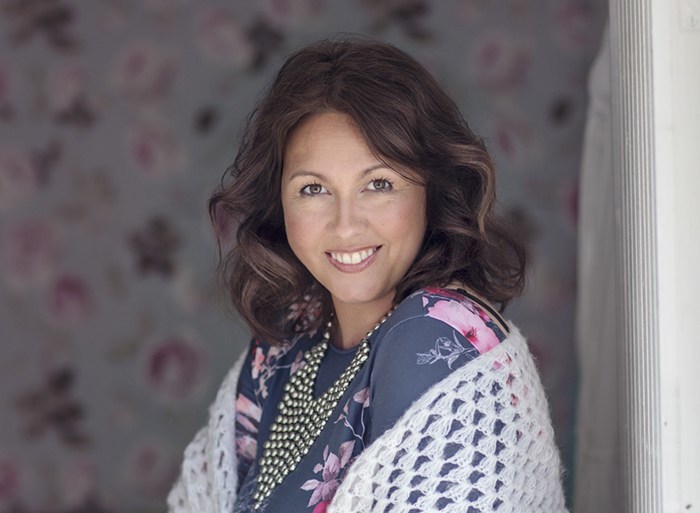 The set-up:
There are a few solutions for taking a self portrait, but this is how I like to do it:
I put my camera on a tripod. Place the camera in exactly the same height/position as my head. I prefer to use a prime lens set on auto focus.
The secret to make it easy on your-self is to invest in a wireless remote controller. I use RC-6 from Canon which is about $21 – well worth every penny! The remote will help you focus – which is often the biggest frustration when taking self portraits. This remote will be your new best friend!
To use the remote, you need to set your camera adjustments to the self-timer function (How to do this is different from camera to camera, so read your manual or google your camera brand + self-timer – it´s always very easy do, you just need to know how :-))
When your camera is set up, you are ready to take some test shots to get your settings and focus right. With the remote I find it very easy to get the focus right – sometimes I got it wrong and it would focus on the background behind me and make me all blurry – but I think that only happened on about 30 pictures out of the 402 I took. Also make sure your focus area is not to narrow.
The light:
Besides getting the focus right – SOFT LIGHT, is what matter the most!
If you´re inside, place yourself near a window. Make sure the light is soft – no direct sunlight! Place your self with your side to the window or directly facing the window. The tripod/camera should be right next to the window and you a few feet back.
If you´re outside avoid direct and harsh sunlight. Always look for a spot with soft light. If it´s a lightly overclouded day – then great, it´s like one big softbox and you can position yourself everywhere. But if the sun is high on the sky, look for places with light shadow and avoid areas with dark shadows.
You can also aim to take your portrait during the golden hour, in the morning or in the evening, when the sun is going up or down. This makes perfect light!
I took my portraits in the middle of the day, on a hot summer day, the sun high on the sky, but placed myself either in a shadow, in an opening or inside my house using a window.
The styling:
When it comes to styling it´s important that you look like yourself – but also challenge yourself to experiment with colors and styles.
Take me for example, I wear black or dark colored clothes 90% of the time – but from experience I know it´s not what looks good on camera. So I  had to experiment with colors and light tones.
Keep in mind the colors of your brand and the look of your website. Your self portrait should fit in like a glove.
My suggestion is, that you try out a minimum of four different outfits – with and without accessories. That way you´ll learn what works and what´s not working at all.
Hair and make-up:
Make sure to take pictures with at least two different hair-styles. If possible one with lose hair and one with an updo. You might be surprised about the change it will do on your selfie. What looks good in real life, doesen´t always look good in camera and vice versa. So don´t be afraid to test out different hairstyles.
Do a natural make-up, but give yourself a little more dark eye-liner/shadow to make your eyes look bigger and a little rouge on the cheeks – to get a radiant glow. Use a transparent powder to control shine, but be careful not to use to much and your skin will loose it´s glow.
For make-up inspiration and tutorials check out Lisa Eldridge on you-tube.
The editing:
If you wish to create  a professional looking headshot, it´s a good idea to use a plain white background. I`m just standing in front of a white wall. Because I don´t have any flash or lights to lit up the wall behind me, it turns out a little grey and dull. But by playing with curves and levels in photoshop I managed to brighten the background, which give the image a fresh, clean look.
Be careful not to over-retouch yourself – I know it´s tempting, but your wrinkles ARE a part of you and also a part of your charm and personality. Embrace it and just tone it down a little.
Alright, now it´s your turn! Get to it, and create some amazing self portraits

P.S. If you have a second, sharing this article with your friends would be a huge help.
Follow me on Bloglovin | Instagram; @christinagreve | Facebook; Divas&Dreams