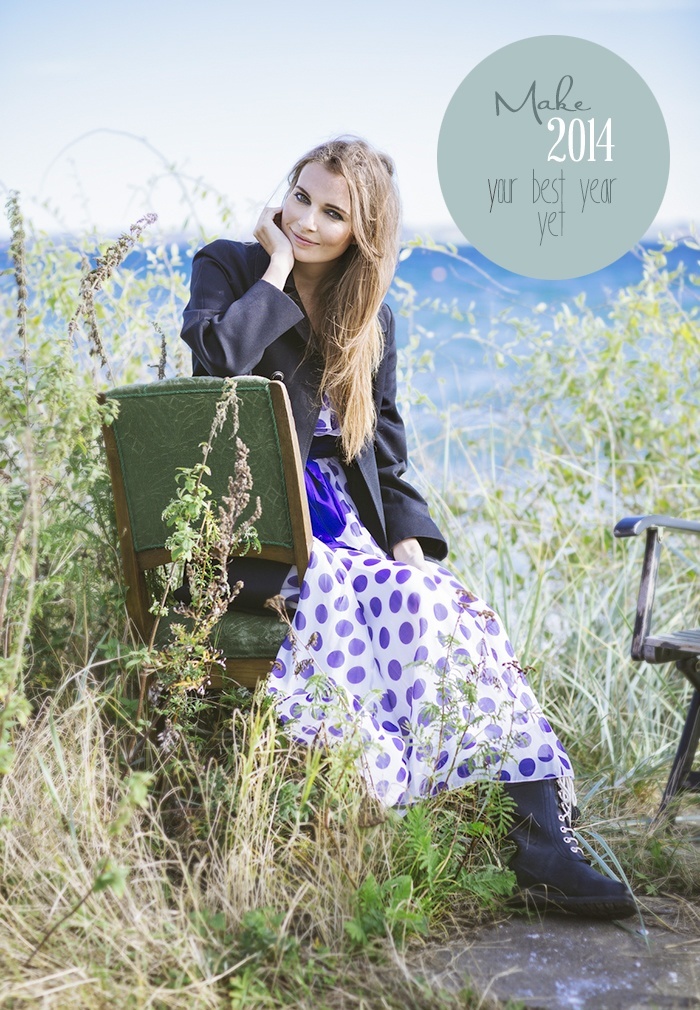 Do you wish to discover how you can make 2014 Your Best Year Yet?
Are you ready to re-connect with yourself and commit to your dreams?
Do you feel that life is to short for regrets?
Forget about New Year's Resolutions, it´s time to build momentum and stay on track for all of 2014!
Give yourself the opportunity to put yourself first, re-connect with your true desires and generate the energy you need to create a better life for yourself.
Goal setting is the first step toward successful achievements. It marks your first point toward success. Without this step, the other steps of goal achievement cannot take place.
It´s not about striving for the PERFECT life – because the perfect life does not exist – only perfect days or moments exist. If we take our own life and happiness seriously and mindfully do things everyday to fulfill our dreams and our heart´s desire, then we can better cope with the bad days, we grow more confident and we get more out of life + relationships.
"If you don't know where you are going,
you'll end up someplace else."
― Yogi Berra
The recipe is simple:
Goal Planning + Action Steps = The power to create the life of your dreams.
I will take you through my personal goal-setting-plan, I will give you the tools you need to re-think your life and plan for a wonderful year.
I have written this especially with photographers and creative souls in mind – but no matter your profession, you are more than welcome to join. In your own mind just twist the words a little bit so it fit´s you and your life.
I will not only be talking about work and career goals, but also personal goals – it´s all about digging deep into your true desires and values in different areas of your life.
You have much more power to shape things than you might think and I will give you the tools you need to grow your confidence and make things happen.
Give yourself time, courage and motivation to discover what matters most and to figure out how you really want life to look and feel.
Are you ready to make 2014 your best year?
I bet you are 

Let´s look at what you need to get started:
A blank journal + pen
Computer + printer
A scissor + tape/glue
A large cardbord/white board or a large surface like a wall, door or closet door. (for hanging things)
30 minutes a day (feel free to spend more time on the assignments if you can)
Access to www.christinagreve.com to follow the steps.
Take some time today, to make sure you have everything you need – maybe even schedule some time in your calendar to take part in this journey.
Then do the following steps one by one in your own tempo:
Step 1  | Let go of stuff that limits you or pull you down
Step 2  | The necessary step: Forgive Yourself
Step 3  | Health & Lifestyle Challenge
Step 4  | Find Your Personal Power Quote
Step 5  | Be Inspired by your role models
Step 6  | Boost Your Social Media Presence
Step 7  | Develop Your Creative Potential
Step 8  | True happiness comes from feeling grateful
Step 9  | How to set Passionate Money Making Goals
Step 10  |  Make life more fun with 5 Crazy Ideas
Step 11  | Action Oriented Attitude = Success
Step 12  | Share Some Love – Write a Thank You Letter
Step 13  | Unlock The Power Within
Step 14  | Develop Your Personal Photography Style
Step 15  | Detox your life – Make room for what you really want
Step 16  | Control your to-do list or it will control you
Step 17  | Law of attraction | Design your dream day
Step 18  | When you trust your heart, you find your true power
Step 19  | Raise your standards and stop settling for average
Step 20 | Rock Your Photography | Business Planning
Step 21  |  Embrace the power of positive thinking
Step 22  |  You weren´t born to fit in, you were born to be yourself
Step 23  |  Prioritize what really matters – let go of the rest