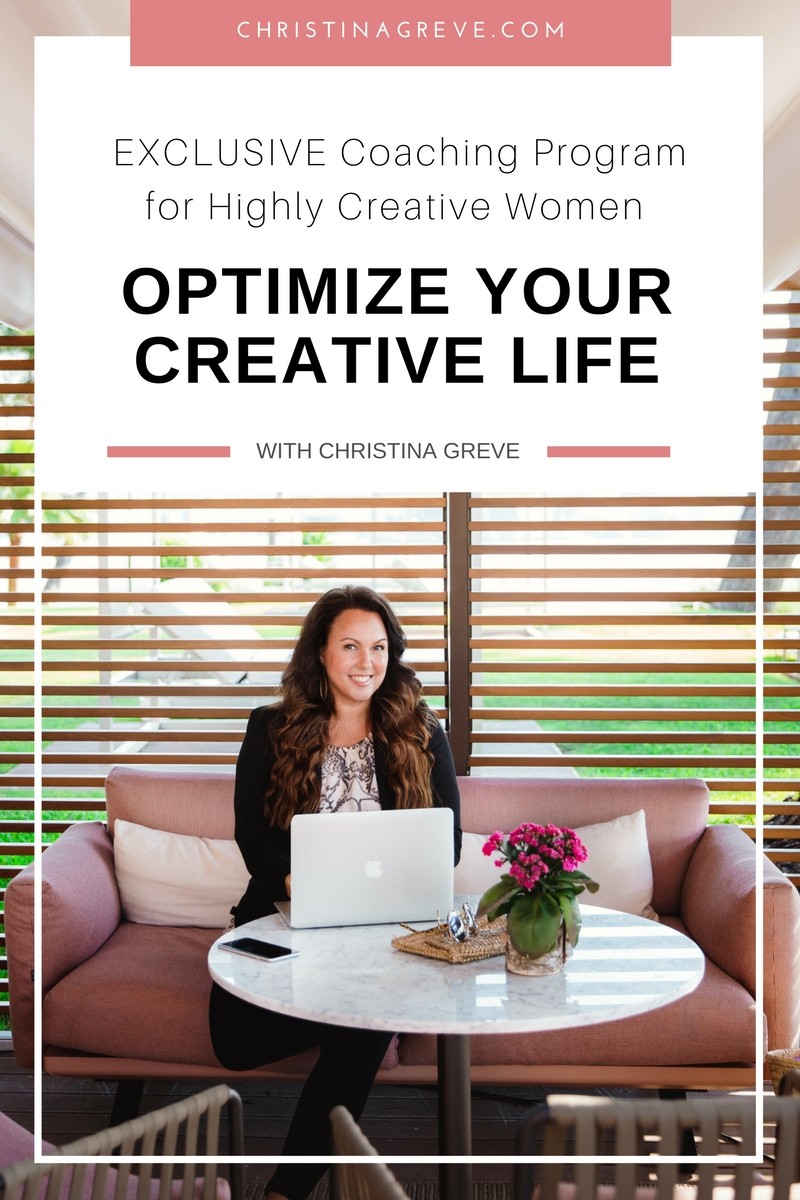 I am SOOO excited! FOR THE FIRST TIME IN 5 YEARS I´M LAUNCHING A BRAND NEW COURSE!
I´ve been working on Optimize Your Creative Life behind the scenes for months now, and I´m super thrilled to announce that registration is officially open. I know many of you have waited for this and I´m SUPER THANKFUL to ALL the fabulous women who already signed up.
This is a premium coaching course for highly creative women who wish to transform their creative passion into a heart-driven, abundant empire.
The program consists of 8 core modules, 6 months coaching + support, exclusive bonuses and the chance to be part of a small intimate group of like-minded creative women on the same path as you.
Gain support, motivation, inspiration, and answers to all of your questions, as I expose everything it takes to leverage your creative passion into a profitable + successful business. Including programming your mind with powerful new beliefs and patterns for success.
80% of success in BUSINESS and in LIFE is directly linked to MINDSET — what you think and feel about yourself. An abundance mindset, therefore, isn't an option. It's a necessity!
In Optimize Your Creative Life you will learn:
EVERYTHING it takes to create, launch and profit a creative heart-driven business.

What EXACTLY you should be doing each day so you can actually make some MONEY!
How to uncover your unique brand, your voice, the SOUL of your creative business, so you can stand out from the crowd.
How to grow your creative business significantly by creating unique offerings, digital products, and online courses.
How to find + connect with your target audience + dream clients, and get them to notice you too.
How to heal your relationship with money and achieve a high-performance mindset.
How to price your service and products the right way, raise your prices and charge what you are worth.
How to finally leave fear behind, grow your confidence and get out of your own way.
The course begins September 14. 2017 and seats are limited.
I decided to launch well ahead of time so you can start preparing your fall schedule before you go fully into Summer vacation mode.