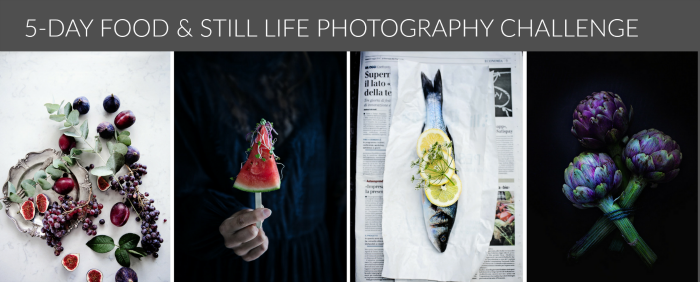 Whoa! Welcome to day 5 of the Food & Still Life Photography Challenge! You made it! HONOR yourself for ALL the action you´ve taken this past week. You are now closer to reaching your photography goals, because you know what to focus on. Big congrats!
Today I want to talk about balance! Balance is important in all aspects of life. When it comes to photography, I´m talking about a specific type of balance and that´s White Balance.
White balance is the KEY to a great image. I´m personally a bit obsessed with white balance as I love when my light is as white and clean as possible. When the white balance is off, the photo is either too warm/yellow or too cold/blue. You can control white balance in two ways: firstly, in camera and secondly, in post processing.
Adjusting White Balance in Camera
Every DSLR has a white balance setting. Do you know where these settings are located on your camera? You will see that there are different settings depending on your shooting conditions.
These settings are: daylight, shade, cloudy, tungsten, fluorescent and flash. You can adjust your camera to fit the light, or you can leave your camera on Auto mode. It is important to adjust the white balance to ensure any whites look white and not yellow or blue. When the white balance is correctly set, the other colors will look natural as well.


I shoot 97% of my pictures with my white balance set to Auto (AWB). To test the setting, I shoot a few images and check them on the camera screen. If I'm not happy, I will try the Daylight or Cloudy settings. These often work well for my daylight photo shoots.
Luckily it´s super easy to adjust the white balance – though it might take a little training for your eyes to see when you´ve hit the right balance. Be patient here, give room for practice and experimenting.
Adjusting White Balance In Post Production
I prefer to adjust the white balance – not in the camera, but in post production. For editing I use Lightroom or Photoshop, but you can adjust the white balance in almost all photo editing programs available. If you don´t have Photoshop or Lightroom you can use PicMonkey (online editing software) or Aperture (for Mac).
In the photo below you can see the difference between the two photos. The only thing I´ve adjusted is the white balance. The before photo show a bit of a yellow color color cast, which is perfectly normal when you use natural light.
After adjusting the white balance my photo already looks more professional without being too blue/cold. Pushing the white balance towards the cooler tones works extremely well for food and still life images.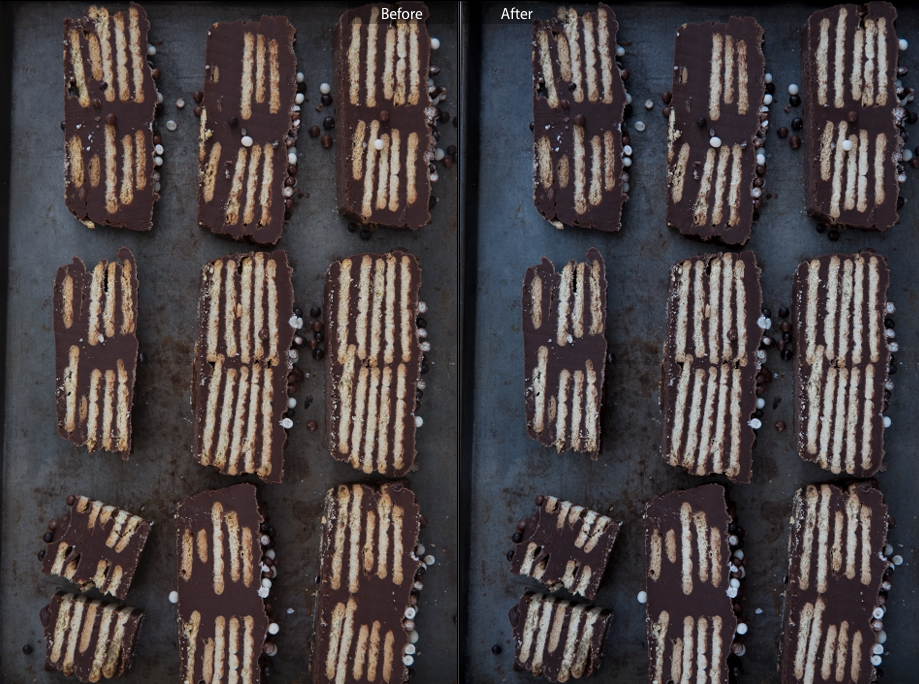 Adjust The Temperature
Open up any editing program and look for the temperature slider (TEMP). It´s often the first tool to show in any program. The slider will be blue on one side and yellow on the side.


Bring the slider towards the blue color, until you´ve eliminated any yellow-ish color tones in the photo. In most cases a little goes a long way. You don´t want your image to be too blue/cold – just pleasing to the eyes. How much or how little? It´s a matter of personal taste. Experiment until you get a result you truly like.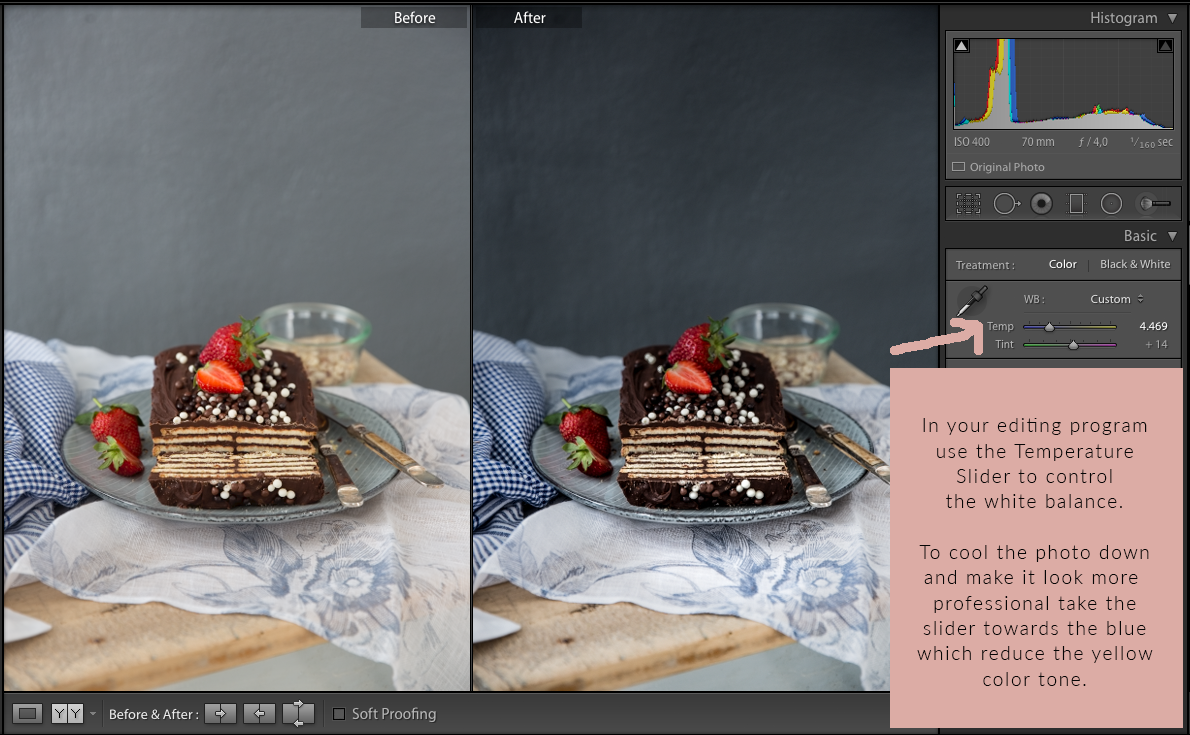 TAKE ACTION
Choose a still life or food photo you´ve recently taken and upload it to your preferred editing program. Locate the temperature slider and play with it. Notice how adjusting the slider changes your photo. Keep adjusting until you are happy with the look and feel.
Remember, practice makes perfect, so be gentle with yourself. It can take a little time to find the right white balance for your photo, and that´s okay. Once you got the hang of it, it will completely change your photographs.
It's been absolutely fabulous teaching you this past week. THANK you so much for participating in the 5-day challenge and allowing me the great honor to be a part of your world. You are awesome!
Missing any of the past lessons? Here are all of them:
Day 1: Finding The Right Light
Day 3: How to Give Your Photos That 'WOW' Factor
Day 4: Simplicity and Negative Space
Day 5: Adjusting White Balance to Create Beautiful Photos
With gratefulness,


PS. Share Your Photo On Instagram. Use the hashtag #slowdownwithstills to share it on Instagram and connect with like-minded. I can´t wait to see your photo!
PPS. Do you know anyone who would love to join this challenge? Then simply email them this link; http://christinagreve.com/free-5-day-email-course/ or share the link on social media.