Welcome to day 3 of the 5-Day Challenge!
Before we get started today, I want you to take a moment to HONOR yourself for doing this challenge. YOU care enough to do something to reach your goals. And taking action is what will make you a master! Take one step at a time and you will be amazed of your results.
There are almost endless factors to making your photos outstanding. Styling secrets, controlling light, working with colors, mood, stories and themes – just to name a few. I talk a lot about all of these topics in my online photography workshop, but for now I´ll simply share 6 important factors that can help you improve your food + still life photos instantly.
Okay, here we go.
#1 – Shoot Overhead or Straight On
There are really only a few camera angles in food and still life photography that you see again and again; overhead or straight on. Before you start taking pictures of your subject consider from which angle it will look best. Make a conscious decision. Where you place the camera will affect the type of story you're trying to tell.
Some food and still life objects looks great when photographed from above, like a pie, or a baking tray with cookies. Other objects look better from a straight on angle, like burgers, ice cream cones or a bouquet of flowers.
Think of your object/subject beforehand. The size, shape, height and what is unique about it. Then place the camera where you think best highlights these qualities. The overhead angle allows you to get a top-down look at a beautifully styled setting and the straight on angle allows you to emphasize the height and structure of the your subject.
With an overhead angle you can tell a story with many objects included, and still keep the image calm and balanced. With the straight on angle, it´s better to maintain the scene more straightforward and clean. Otherwise, it can quickly look messy and unorganized. Use these empty spaces to tell more of a story.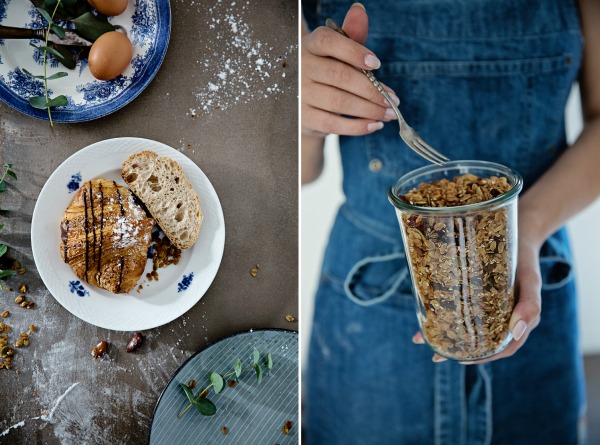 #2 – Focus on Your Superstar
One of the most important things when photographing food and still life, is always to make it clear what object in your frame is the superstar. There´s no room for doubt. The viewer should feel safe knowing who has the "leading role." All other objects in the frame, the props, are only playing supporting roles. Surround your main subject with props and accessories that relate to it.
For example when shooting food, things like ingredients, sauces, oils and cooking utensils could indicate how the dish was made. Tins, jars, herbs, glasses, fabrics and linens could speak about the origin of the dish or the season in which it is served.
Placing a few of these in the foreground and background will definitely elevate your story and give it depth. Think about what makes your subject really delicious or beautiful and then aim to highlight this characteristic in your shot.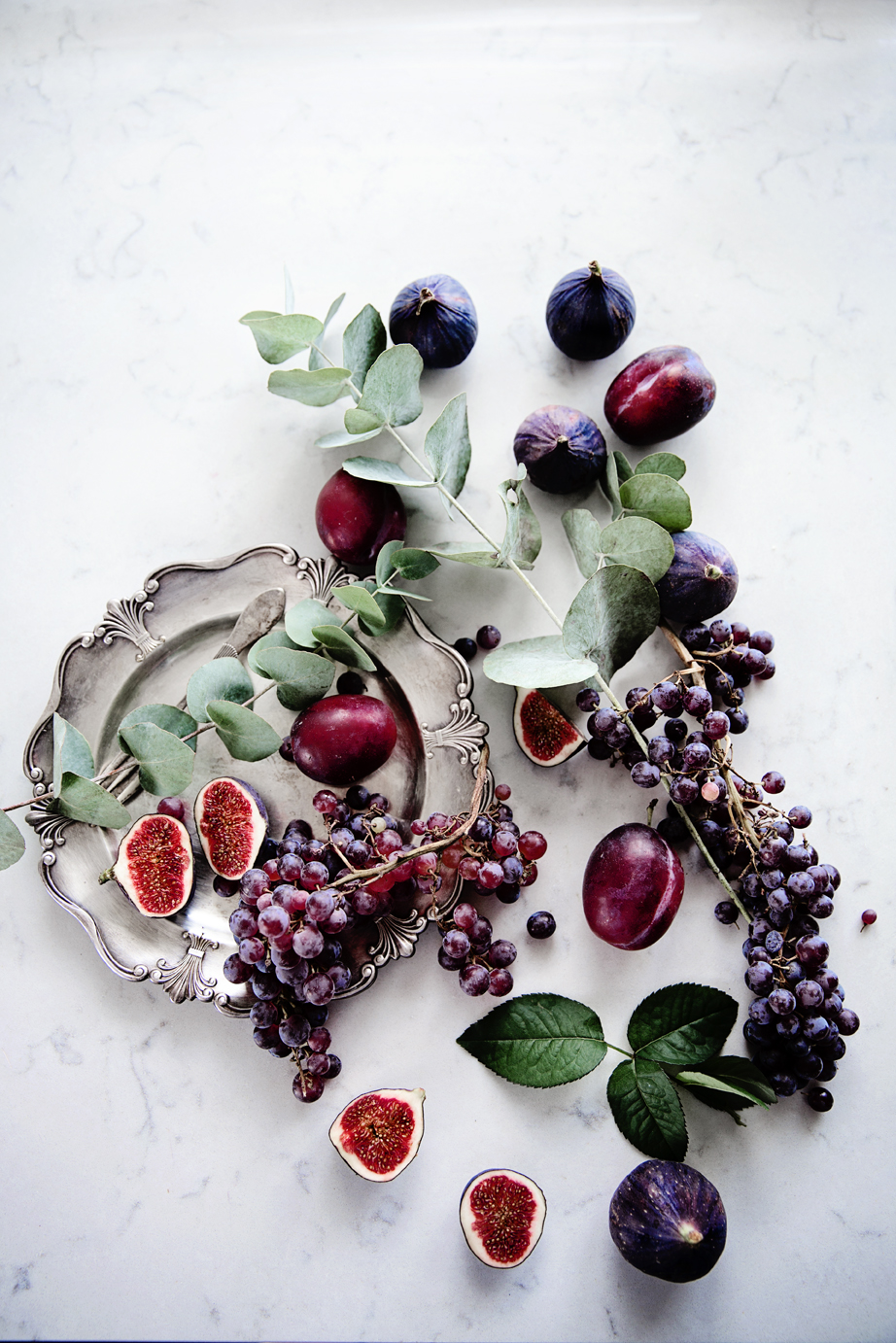 #3 – Use Props & Dishes With a Matte Finish
Shiny reflective dishes can either create highlights and bright reflection spots in places where you don't want them, plus they can actually put YOUR REFLECTION in the photo. It´s okay to have reflections in your photos as long as the reflection fits naturally in. If the reflection takes too much attention, it´s not so good. The focus should always be on the primary object.
To avoid reflections use objects with a matte finish. If you do use a shiny object, make sure to place it somewhere in the frame where the least amount of light will hit it. Sometimes if I use a shiny plate for food, and I spot a reflection I put a bit of herb or food on top of it, it helps. But again if you can use props with a matte finish do it. It will save you a lot of trouble.
#4 – Style with Layers & Textures
One of my best styling tips is layering with different textures. It´s a pretty simple technique. All you do is placing different things of different material on top of one another. On top of the layers, you put your superstar object (in this case the marmalade jar).
Layering can add character and storytelling to the photo and make it look more authentic. If you look at the image below, you´ll see how I layered starting with the table, then a marble tray, wire tray, paper, food, spoon, and leaves. The layers are creating a story around the marmalade jar, which I placed on top.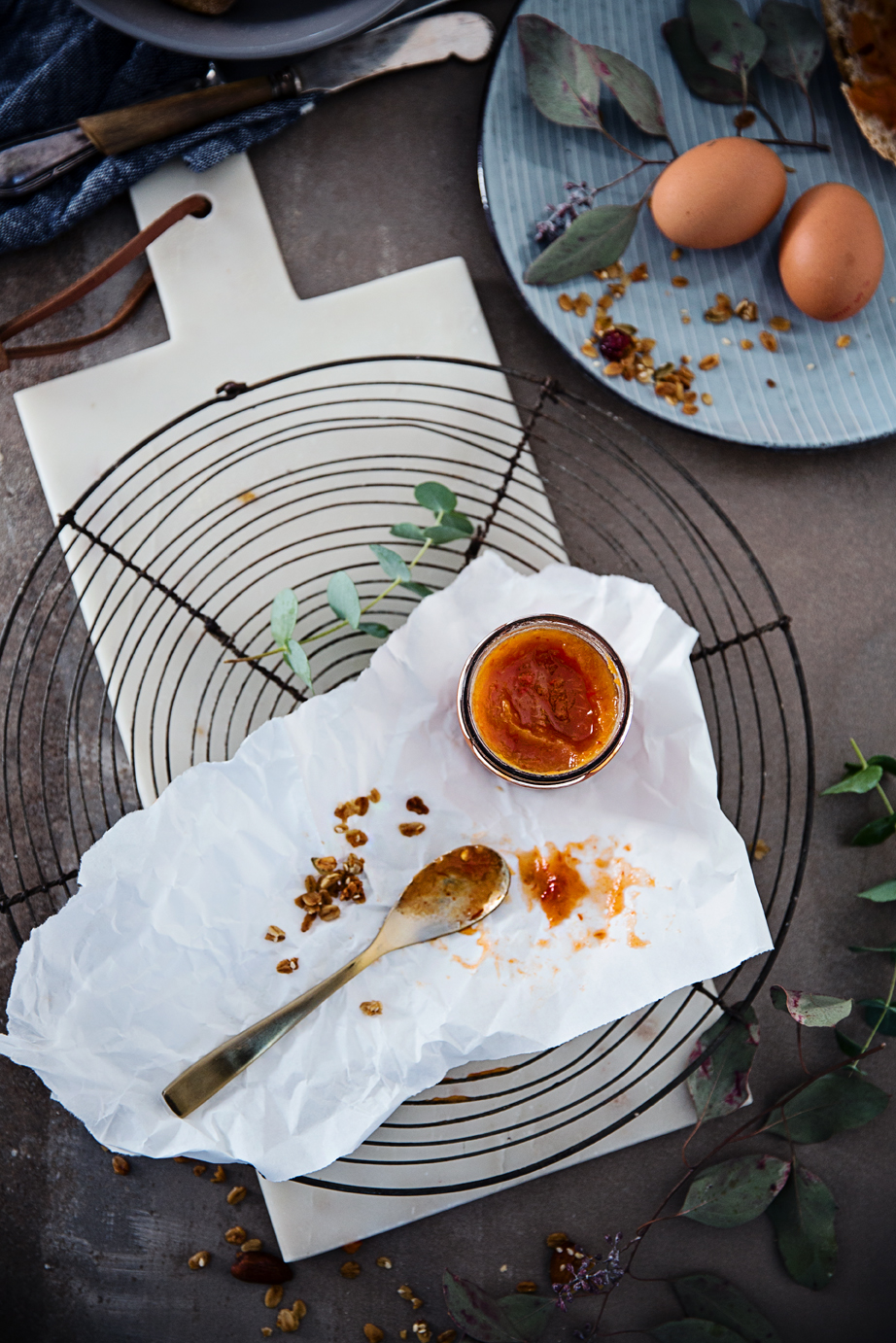 #5 – Play with Contrast
Another great tip to help you give your photos that wow-feeling, is to play with contrast. You can play with contrast in many ways, I mostly use it with colors and textures. In the photo above, I placed a white marble tray and white paper on top of a dark table. That´s a contrast; dark vs light. If I had placed the white marble board on a white table it wouldn't have had the same effect.
The colorful orange marmalade jar is also a contrast. Because the other elements in the photo are more calm and toned-down colors, the orange simply pops out of the frame. Contrast can also come from using different material and textures; like raw industrial iron together with a soft pink flower.
#6 – Styling With Colors 
Personally, I always style food images around a color theme that inspires me. When you style a photo with color tones from the same "color family" it can add balance, calmness and sophistication. Styling with "tone-in-tone is pleasing to look at, simply because it is calming to the eye. In the two photos below, I styled the photo using a grey/brown-inspired color theme.
The base of the photo is the grey wooden table – an old fishing board I bought on a flea market. After deciding my background, I start to find props that match both the surface as well as the food I´m photographing. I find that when I style my photos within the same color range it become much easier to match a series of photos.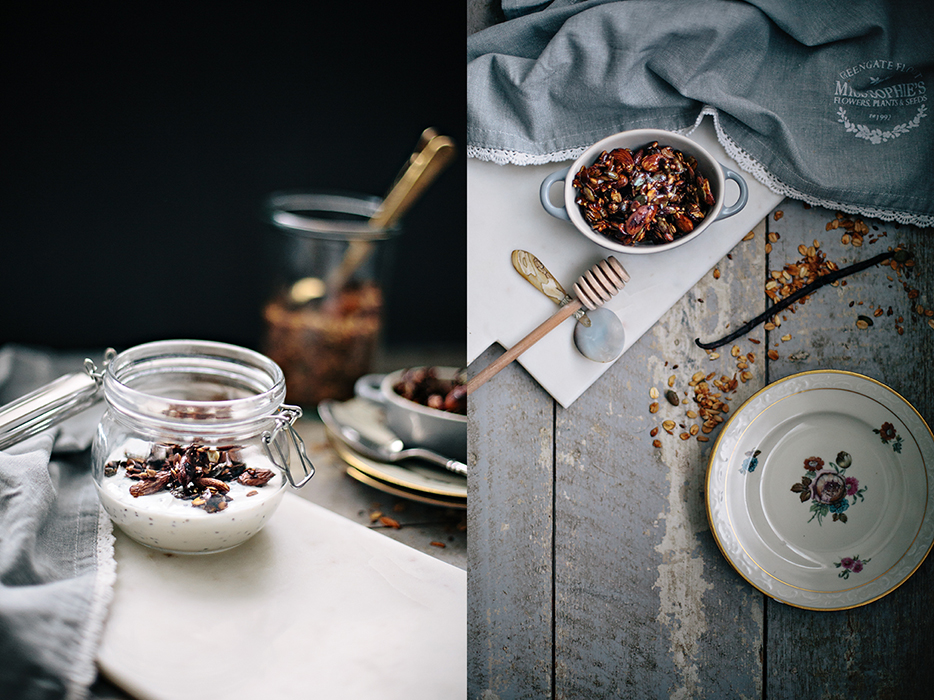 Study, Play, Experiment and Practice
Alright, now it´s your turn. With these six strategies in mind, take about 15 minutes to play with one or two of them. You can try an implement more than one factor into your photo.
Remember it´s not about creating a perfect photo, it´s about learning, playing and experimenting until you find something you like. The more you play and experiment, the faster you´ll find your own voice and style.
Enjoy it and most of all; have FUN!
Much Love,


PS. Do you know anyone who would love to join this challenge? Then simply email them this link; http://christinagreve.com/free-5-day-email-course/ or share the link on social media. 
PPS. Share Your Photo On Instagram. Use the hashtag #slowdownwithstills to share it on Instagram and connect with like-minded. I can´t wait to see your photo!