Welcome to day 2 of the 5-day challenge!
Yesterday we talked about finding the best light for food and still life photography. Today I´ll show you how to plan and prepare before you start taking pictures. To create beautiful photos planning is needed. You have to give some thoughts to what you want to do before you begin. So let´s get started.
I believe a beautiful food or still life photograph is a piece of art. I love to create them; I love to style them, and I love to look at them. I always aim to tell a story or give a sense of atmosphere in my photos.
I strive to make every element in the picture work towards creating a feeling. The props, the light, the color theme, the color tone, and the editing are all supporting factors in storytelling.
You do not need to have a fancy studio, professional equipment, or access to a stylists to create a beautiful image. When I photograph food, I often just take something out of my fridge, freezer or kitchen cabinet.
I use what I have and keep it simple. Sometimes I will go to the bakery to buy fresh bread or a delicious cake, and then go back home, style it with pretty props and take a few pictures. Most of my food images are photographed in a small space using a simple table and natural light from a window. My goal is to show you how you can create beautifully styled photographs by giving you the knowledge you need to create your own version of it.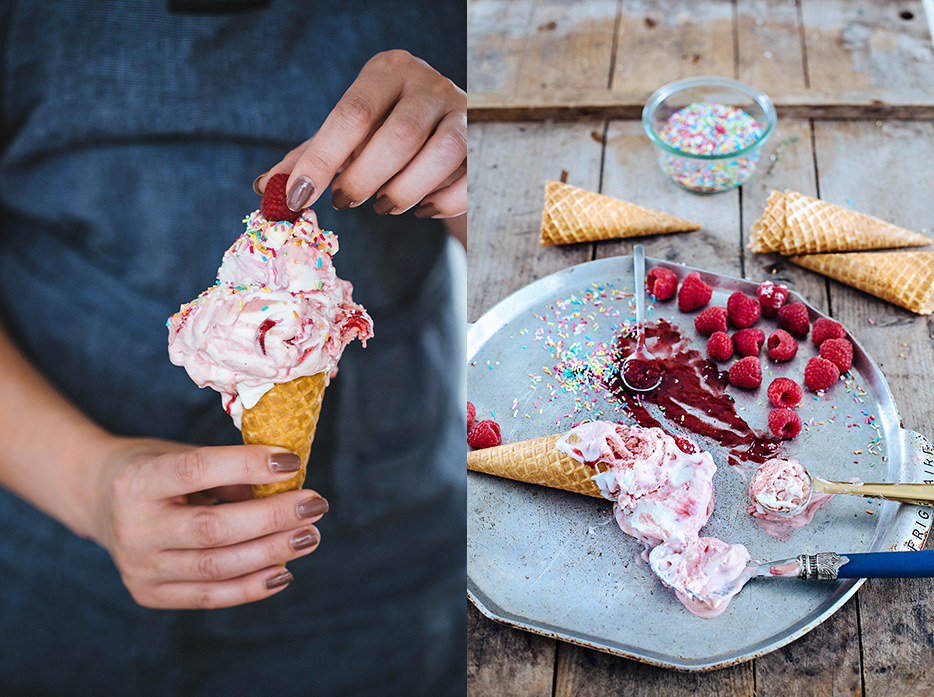 Start with an idea
Before you get started, it's good to have some kind of idea of what you want. Ideas can come from everywhere, from a picture you see in a glossy magazine, from a beautiful plate you find at the flea market, from colorful fruits in the grocery shop, a seasonal bouquet of flowers or from a delicious recipe in a book. As soon as you get an idea, investigate how you can execute that idea. Consider what kind of light, props, background and color theme will suit your idea?
Even the simplest of photos will only work if they are built on a story that gives them meaning. The story that your food photo is based on doesn't necessarily need to be realistic. In real life, you may not serve or eat food off of old and rustic props. Your story just has to look believable and real.
Building your photo on a story doesn't guarantee that the viewer necessarily see the exact same story you do and that's okay because that is not actually the goal. Your story is simply a tool for YOU to keep in mind as you style it and capture it.
Background & Surface

Your choice of surface and background will have an enormous impact on the overall look of your image. Therefore, it is important to select it carefully. Choose a clean, smooth surface for a modern look or choose a surface with patina for a more rustic look. I love to use wooden tables, old iron tables, chalkboards and linen fabric.
Keep your background simple, so nothing is confusing to the eye – make sure all focus is on the subject/object your photographing. Always try out different backgrounds when you photograph food.
You might be surprised how much of a difference it can make for your photos. The best backgrounds/surfaces have a matte finish. If it is shiny or glossy, it can ruin a photo and take too much attention.
Props & Styling
You may not be a professional stylist, but you can start to build a small collection of plates, bowls, dishes, cooking items, and textiles that can help give your photographs character and style. Props are critical to a food and still life photos because they play such a vital part in the storytelling aspect. You need props that fit the story you are trying to convey.
It's crucial to keep in mind that props need to complement the object/subject – not compete with it for attention. I typically start with one main prop, for example, a plate that will hold the food. Then I choose the supporting accessories. Those are props that provide context and give the viewer additional clues about the story, the recipe, or the history of the food. Supporting props can be things like a spoon, a tea towel or ingredients used in the recipe.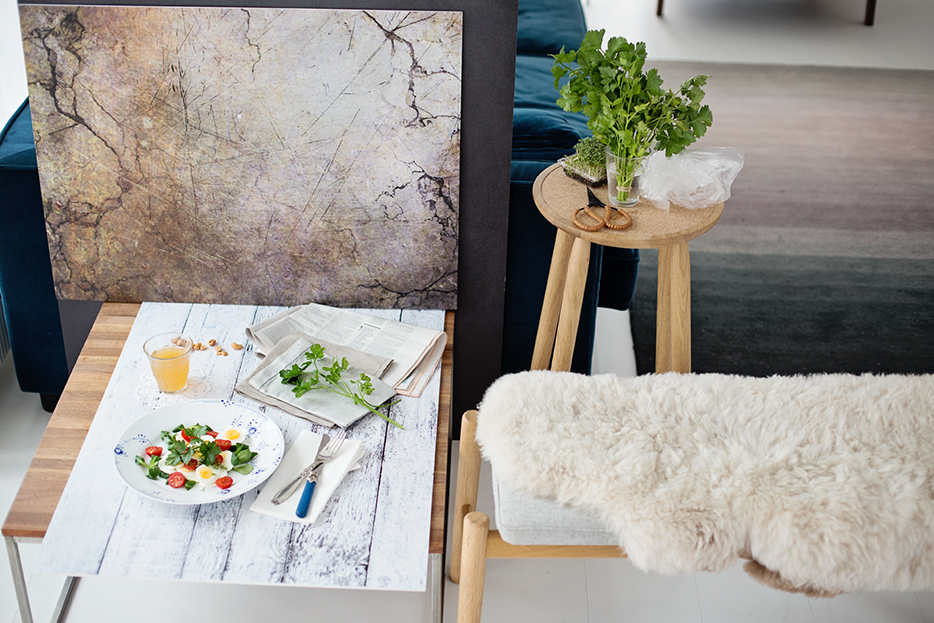 Prepare: set everything up, before you start
When photographing food and flowers, time is not always your friend. Do as much as you possibly can ahead of time. Food should be shot as soon as possible after preparing. Some type of food, like fresh herbs and greens, will quickly start to look dry, old and tired.
Therefore, start the styling using props and food that does not need to be kept fresh (like eggs or lemons, which can look great for a long time) and then wait until the last minute before you take out the fresh food. Remember to set up your camera and perhaps, if needed, a reflector before you take out the food. You want it as fresh as possible. In this case, the fridge is your friend.
It is a natural instinct to set up that table first with all your gourmet food and props and then pick up the camera. But you have to fight that, what you see with your eyes is not what the camera will see. If you want to make those stunning images, start with a naked canvas and point your camera at it.
Once you have your camera set on the tripod, start building your scene one prop at a time. Layer upon beautiful layer. With each layer, refer back to your viewfinder to make micro-adjustments and add another piece of the story, until you have one spectacular composition to be proud of.
Using a tripod can also make your workflow faster. If you have to pick up your camera every time you need to adjust a plate or a prop in the background then you will waste loads of time re-focusing and getting back to your ideal composition.
PRO TIP: Using a tripod will help you get tack sharp images, because you the camera will be completely still.
When preparing for a food or still image, keep the elements of design in mind:
shape
color
texture
composition
light
story
focus
For example, consider the following:
Do I have enough light?
Do I have a good color theme? (try not to have too many colors in the frame.)
Do I have a variety of textures, such as liquid, textile, paper, metal, wood, etc.?
Do I know what the image is going to be used for (portfolio, blog post, instagram)?
Where do I want the focus and what´s the story I´m trying to tell?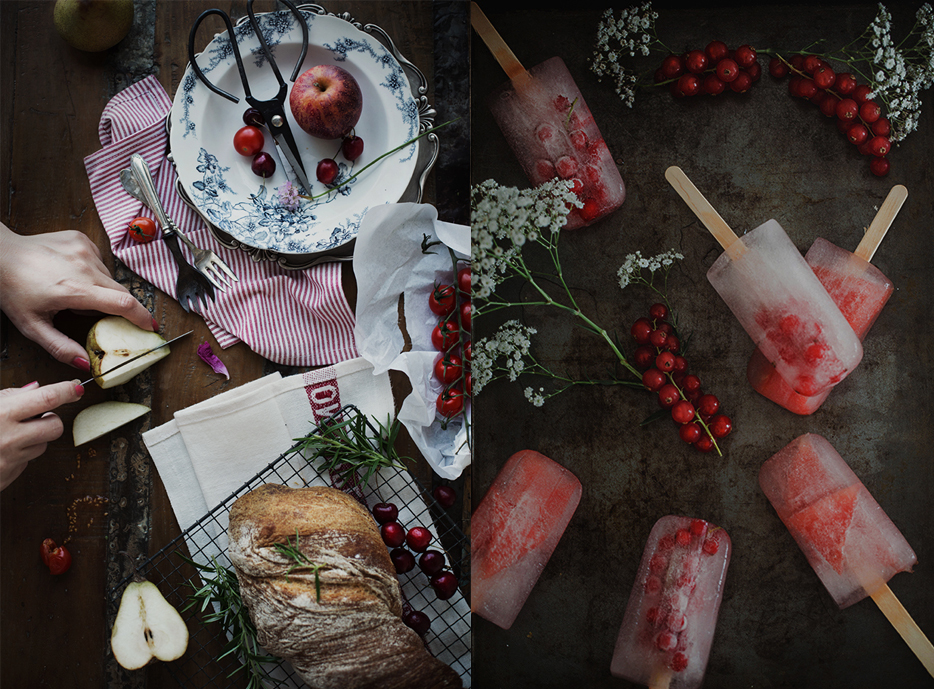 The Workflow:
1. Decide where you want to set up the shoot (location).
2. Choose the props you want to use and make sure they fit the theme.
3. Pick a background and set up a reflectors if needed.
4. Place the camera up on a tripod (if you shoot handheld never set your shutter speed below f/100).
5. Arrange the props one by one, starting with your main prop.
5. Look at the camera viewfinder to see if you like the composition or if you need to change something.
6. Make sure to remove any clutter or dirt.
7. Take a few test shots to find the right settings for the light. (if you are a beginner simply set your camera on AUTO).
8. Take the food/flowers/object out and place it in the scene.
TAKE ACTION
Spend no more than 15 minutes planning a shoot. First start by deciding what you are going to photograph – this will be your main subject. This could be anything, just keep it simple and choose something like; a single flower, eggs, bread, cookies, a cup of coffee, or a few apples. Whatever you already have at home.
Now think about the color of your subject. What other colors would complement the color your subject? When you have decided on your color theme, it´s time to collect a few props that fits your theme.
Also consider your overall idea; do you wish to go for a modern look or a more rustic look. What´s the story you´re telling about your subject? The mood? What surface or background would be a good fit?
When you´re ready, style your scene and take a few test shots. Remember this assignment is about learning to plan and prepare. It´s being MINDFUL about your decisions, so you can develop your skills and explore your creativity.
Enjoy and most of all; have FUN!
Did you download the EBOOK yet? You can grab your copy here: Still Life & Food Photography-4.pdf
Much Love,


PS. Do you know anyone who would love to join this challenge? Then simply email them this link; http://christinagreve.com/free-5-day-email-course/ or share the link on social media.
PPS. Share Your Photos On Instagram. Use the hashtag #slowdownwithstills to share it on Instagram and connect with like-minded. I can´t wait to see your photos!